Power Range:
600 - 800 VA
Veelzijdig, robuust en eigentijds design.
De iPlug versie is het ideal oplossing voor thuis of kleine kantoren. Het is eenvoudig installeerbaar en gebruiksvriendelijk.
Via een LED status indicatie wordt de gebruiker geinformeerd over de toestand van zijn batterijen en UPS. De batterijen zijn makkelijk vervangbaar.
Het systeem heeft vooral zijn toegevoegde waarde binnen huishoudelijke omgevingen om televisies, PC en andere installatie te beschermen tegen uitval en/of overspanningen te wijten aan blikseminslagen.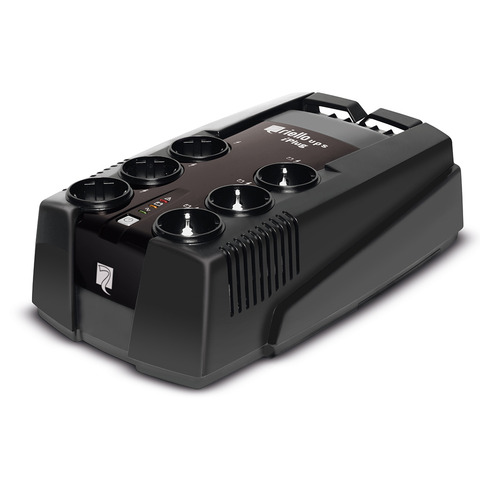 Technical specifications of the model
Eigenschappen
ECO LINE energie-vriendelijk concept
Compact en ergonomisch design
5 Uitgangen batterij beveiligd
3 Uitgangen met enkel een overspanningsbeveiliging
"Cold Start" mogelijkheid: het toestel is opstartbaar zelfs zonder de netspanning aanwezig.
Batterijen zijn éénvoudig te vervangen door niet getrainde mensen.
USB interface voor remote monitoring
Vermogenkabel inbegrepen
Beveiliging tegen kortsluiting
Auto restart - het toestel start automatisch na een netuitval waarbij de batterijen volledig ontladen zijn geweest.
GS/Nemko safety marking
Beschikbaar met French (2P+T), English, Schuko en natuurlijk, Italiaanse pluggen
Communicatiemogelijkheden
PowerShield³ supervisie en shut-down software voor Windows 10, 8, 7, Hyper-V, 2019, 2016, 2012, en eerdere versies, Mac OS X, Linux operating systems
Plug & Play functie.
2 jaar garantie