Power Range:
800 - 2000 VA
Ideale oplossing voor de meest veeleisende gebruikers.
Het Vision gamma is beschikbaar in vermogens van 800 VA tot 2000 VA.
Het is een stand-alone model en de uitgangspanning is sinusoidaal bij batterijwerking, digitaal gestuurd en gecontroleerd.
Door zijn uitgebreide communicatiemogelijkheden en meervoudig gebruik is hij het ideale systeem om kritische belastingen zoals netwerkapparatuur, back-up systemen of kleinere servers te voeden.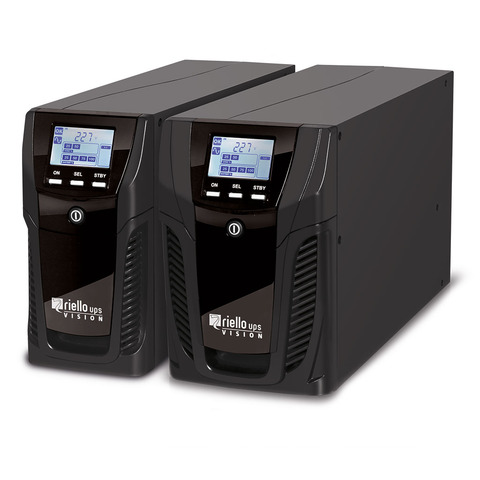 Brochures and data sheets
Technical specifications of the model
Superieure beveiliging tegen netspanningsproblemen
Het VISION gamma gebruikt Line Interactive Technologie. Binnenin een RIELLO VISION systeem zorgt een Automatic Voltage Regulation (AVR) systeem voor het stabiliseren van de uitgangspaning en het wegnemen van langdurige over- en onderspanningen . Tevens beveiligt het toestel tegen kortstondige overspanningen. Het AVR systeem beheert ook de batterij en zijn gebruik: de batterij wordt enkel aangesproken indien noodzakelijk en zorgt dat deze 100% beschikbaar blijft in geval van een netspanningsonderbreking. Electro Magnetische Interferentie filters verzekeren en beveiligen tegen 'spikes ' en 'transients'.
Bij netspanningsuitval zal het VISION systeem de aangesloten belasting voeden via zijn invertor door middel van een SINUSOIDALE spanning. Dit voor een verhoogde bedrijfszekerheid en betrouwbaarheid.
Hoge beschikbaarheid
Het VISION systeem is uitgerust met een EnergyShare C13-uitgang welke toelaat om vroegtijdig een minder kritische belasting te onderbreken en de beschikbare batterij-autonomie te reserveren voor de meer kritisch aangesloten belastingen. socket allows loadshedding and the shutdown of less sensitive peripheral devices to extend battery runtime for critical loads.
De batterijen zijn " Hot Swappable" , met andere woorden kunnen deze worden vervangen via het afneembaar frontpanneel van de UPS. Uitermate veel aandacht werd geschonken aan eenvoudig en veilig UPS onderhoud.
Verder is het toestel uitgerust met een batterijtest om (vroegtijdige) veroudering van de batterijen op te sporen. Een routine is aanwezig dat dient te voorkomen dat de batterijen té diep zullen worden ontladen en onherroepelijk beschadigd geraken.
Meervoudig gebruik
Het toestel is voorzien van een 'Cold Start'-functie. Deze mogelijkheid laat toe om zelfs zonder aangesloten netspanning de invertor op te starten en een belasting te voeden.
LCD display
Vision models zijn voorzien van een verlicht LCD display waarop Status informatie, meetwaarden en de batterijtoestand kunnen worden weergegeven.
Geavanceerde communicatiemogelijkheden
Geavanceerde communicatiemogelijkheden zijn beschikbaar. Bewezen compatibiliteit met multi-platform operating systemen en netwerk omgevingen: PowerShield³ monitoring en shut-down software inbegrepen, voor Windows 10, 8, 7, Hyper-V, 2019, 2016, 2012 en eerder, Mac OS X, Linux, VMWare ESXi, Citrix XenServer en andere Unix-besturingssystemen.
Shutdown and Management Software inbegrepen
Plug & play
USB port / Serial RS232 port / Communication Slot for SNMP Netwerok adapter Card
Meer eigenschappen
EnergyShare socket
Mogelijkheid de UPS aan te schakelen zonder de aanwezigheid van netspanning.
Batterijen zijn "Hot Swappable" en door de eindgebruiker eenvoudig te vervangen zonder afschakeling van de belasting.
Een maximale betrouwbaarheid in beveiliging van PC's dank zij PowerShield³ monitoring en bijhorende shutdown software. Deze software kan gratis worden gedownload van deze website.
Volledig softwarematig configureerbaar met UPS Tools configuration software
Hoge batterijbeschikbaarheid door automatische en manueel uitgevoerde batterijtesten.
Ingebouwde beveiliging tegen kortsluitingen.
Auto restart functie (na netspanningsuitval en na een volledige ontlading van de batterijen zal het toestel terug automatisch opstarten.)
GS/Nemko safety mark.